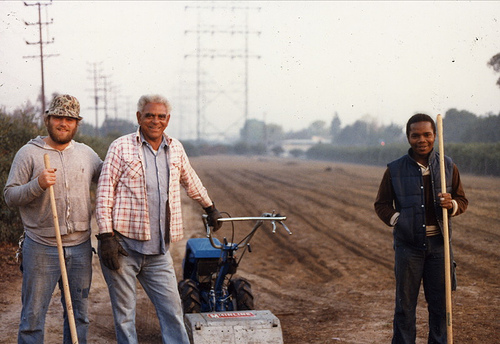 Earl Ambeau – My South Central Urban Agriculture Teacher
I spent some my earlier years growing up in semi-rural Michigan, and was exposed from an early age to the "joys of home gardening." I say this with a mild degree of sardonic irony, because my earliest experiences of working in the garden included performing countless hours of menial, grueling, and relatively un-rewarding labor in the performance of tasks that included raking acres of leaves and burning them, mowing vast, wild, and weed infested lawn areas with primitive gas powered "push" mowers, clearing brush, fallen trees and limbs, pruning massive mid-western specimens of overgrown Lilac and Honeysuckle shrubs, and other less glamorous horticultural tasks such as raking and burning piles of leaves.
My dear departed mother, God rest her gardening soul, was a nature lover and an avid gardener who couldn't wait to get seeds in the ground as soon as it thawed. She would refer to the garden in her poetry as one of her "places of refuge." Unfortunately, she was a single working parent of three children, and her passion for gardening was not matched by the availability of the countless "leisure time" hours the avocation requires to sustain garden productivity and to cultivate the sense of gardening as a "healing experience." This fact is painfully imbedded in the memories I have, when at the behest of my mother's plea for help, my siblings and I would gloomily march out to the garden to assist my mother in pulling out the overgrown weeds that often frequented and quickly overcame my mother's gardens. For us, the garden was not a place of refuge, but a mini-garden-gulag, where we suffered as under-aged slave laborers. Only my mother's profound and infectious love of nature transcended the painfulness of this experience.
Generally not one to allow my experience of misfortune to dictate my future success, I took the entrepreneurial approach, putting my hard earned horticultural skills to work, and began earning an income at a very young age, employed in the exciting and "profitable" field of horticulture. Horticulture, like any other disciplines in the arts and sciences, requires the serious devotee to "pay one's dues." Suffice it to say that I paid mine, engaged in countless hours of mowing lawns and performing back-breaking yard work for hire. Later in life, while in my early teens, my family moved "out west," eventually finding a home in the Hollywood Hills of Los Angeles, where I continued to seek and find work as a neighborhood "gardener for hire." The Hollywood Hills, like some of the other urban / rural interface zones of my childhood, provided another set of experiences that juxtaposed and contrasted the natural as well as not so natural upon the landscape of my life experience. Gardening in the Hollywood hills requires interpersonal skills (dealing with some of the most bizarre "Hollywood characters") as well as mountain climbing skills. People in the Hollywood hills seem to prefer what is euphemistically referred to as the "jungle look," until their beloved jungle overtakes their house, and then they call you up for help to beat back the English Ivy, Sumac, Poison Oak, and Lantana. A gardener in the Hollywood hills is more than happy to mow a lawn on the rare occasion that one appears.
Years passed and I was attending college while still living in the midst of urban Los Angeles. An opportunity presented itself and I entered into my first full time job in the social service field. Life can be wonderfully strange and twisting, much like the roots of a Wisteria tree (I call it "Hysteria," in reference to certain specimens I have had to wrestle with). This very first professional experience had the effect of leading me (literally and figuratively) back to my horticultural roots. In 1979, was hired by an interfaith organization to develop strategies for responding to and mitigating inner-city hunger and malnutrition in the Los Angeles region. I had the extremely good fortune of being involved at the beginning phase of developing the "Hunger Organizing Team" (HOT), a federally funded project of the Southern California Council of Churches and the Interfaith Hunger Coalition. Jimmy Carter was President and his administration was funding innovative responses to hunger and malnutrition in the inner cities of America. The HOT received a large, multi-year demonstration grant, via the Community Services Administration, and the newly formed program provided me with a job that lasted several years and provided me with an introduction to social service that was so powerful and inspiring, I decided that this work was to be my lifetime calling. I was hooked!
I began my work with HOT by researching existing innovative strategies for combating inner city hunger and malnutrition. I had the opportunity to travel around the United States, visiting some of the model alternative food programs and production sites. I added this new knowledge to my earlier life experiences in gardening. The program I then developed and coordinated became one of the key efforts of the HOT's anti-hunger and malnutrition programs in Los Angeles County. I served in the key role of working as a program developer and project coordinator, setting up the programs, hiring the staff, and following through to full implementation.
The first phase of my work involved creating a "food self-sufficiency" team that was responsible for developing Certified Farmers Markets in low-income communities throughout the Los Angeles area. I worked with more than 150 community groups, churches, and government entities in low-income neighborhoods throughout the Los Angeles area as I involved with organizing the first twelve successful Certified Farmers' Markets in Southern California. After the process of organizing farmers markets was well underway, I was presented with the opportunity to develop additional strategies for creating food self-sufficiency with the development of an urban agriculture demonstration program.
I expanded the HOT program to include the development of an Urban Agriculture project that included directing land access, developing and managing four urban agriculture demonstration sites ranging from 1/6 to 11 acres (totaling 21 acres of land) in cultivation at locations in low-income neighborhoods throughout the Los Angeles region. I acquired technical assistance, zoning variances, permits, and licenses, contracts, etc., building cooperative relationships with city, and county, and state officials. One site was under the power lines, another on a section of the yet unbuilt 105 Freeway, and another on a vacant lot.
I developed resources, solicited donations, and participated in an economic viability research team. I organized the first major urban agriculture conference in Los Angeles involving the co-sponsorship of five government agencies and The Trust for Public Land. I personally trained and supervised four "urban agriculture" workers and helped to develop a volunteer corps. I developed a mobile urban agriculture operation using a pickup, a trailer, a high-powered Italian "walking tractor," a sort of high-end rototiller, and other horticulture equipment that could be easily moved from site to site. I learned about what the ideal "vandal proof" urban crop list might look like; avoiding projectile-prone crops like tomatoes or watermelons, and selecting high value crops that require labor intensive harvesting, such as snow peas, sugar snap peas, and fresh herbs. All this happened during my first full-time social service job!
My pay was really low back then, but gratefully, Dorothy Ray Healey was my "rent-free" landlord in South Central Los Angeles for a year in my early days. In exchange for rent, I spent time with her mother, Barbara Nestor, and learned some amazing history you don't get in history class.
During the last 30 years, I have accumulated many similar experiences that have called upon me to dig into both my horticulture and leadership skill sets. It has been a rich career, but I do not want this to be a review of my life work experiences, as fascinating as they might be. Please allow me to shift the focus to how the experience has affected my philosophy of leadership. Along the way, I met some remarkable gardeners and leaders; mentors in other words. In addition to my mother, I had the good fortune to get to become acquainted with a few other great souls who inspired greatness in me through the garden, including:
Earl Ambeau, a community gardener in South Central Los Angeles, who taught me how to hoe a row, plant beans and peas, and how to be an urban farmer.
"Jolly" Batchellor, the famous and good humored horticulturist responsible for starting the renowned Ornamental Horticulture Department at California State Polytechnic University, Pomona, who taught me that academic horticulture has a wonderful history and tradition.
Ed Barnes, once professor of agriculture and founder of Land Lab, and later Vice President of Administrative Affairs and Chief Financial Officer for Cal Poly Pomona, who taught me that horticulture skills are transferable into the world of business as well as academia.
Amalia Vasquez, Indigenous Guatemalan (Mam) Midwife, Weaver, Herbalist and Gardener, who taught me that our relationship to the earth is fundamental to our life being. Each of these leaders demonstrates remarkable skills that cross-fertilize the domains of leadership and horticulture.
Horticultural leaders sometimes emerge in the mass culture, and one of my favorite "horticultural" films is "Being There," from the novel by Jerzy Kosinski. Peter Sellers stars in the movie, masterfully and hysterically portraying a humble gardener, perhaps developmentally out of step (or is it the world's development that is out of step?), who through a series of hilarious circumstances becomes an advisor to the power elite of the planet. At one point in the film, the President of the United States describes his admiration for "Chance Gardiner," quoting what he believes to be metaphorical wisdom of profound global importance:
"I found Mr. Gardiner to have a feeling for this country that we need more of. He likened us to a garden. To quote Mr. Gardiner, a most intuitive man, 'As long as the roots of industry remain firmly planted in the national soil, the economic prospects are un-doubtedly sunny. Gentlemen, let us not fear the inevitable chill and storms of autumn and winter, instead, let us anticipate the rapid growth of springtime, let us await the rewards of summer. As in a garden of the earth, let us learn to accept and appreciate the times when the trees are bare as well as the times when we pick the fruit.'"
I reference this passage with the hope that my philosophy toward life and leadership is not received without good humor and understanding, classifying me as some sort of mixed-up fringe horticultural / organization development character who takes gardening far too seriously. Deep down in my heart and soul, I believe that one of the human race's most useful functions is to be good gardeners upon the planet earth. Horticulture is a framework of stewardship that, in its best light, is a practice of cultivating places of treasure, creating places of rescue, and fostering regeneration. I truly believe organizations can be also become places of cultivated treasure and transformation.
Earl Ambeau
Earl grew a huge variety of butter beans, collard and mustard greens, melons and squash, and he taught me how to use a hoe, among many more other skills. His wife also made the best bean pie I have ever eaten.
Earl welcomed me into his garden and home in South Central Los Angeles, and he helped shape my gardening soul, as well as my urban farming skills. It is hard to put into words the impact he had on me, but his love for urban farming was so deep that it inspired you. When he would hold up one of his home grown beans or squash, there was such incredible pride and joy that you felt like you were in the presence of something magic. I can't help but think of Earl whenever I have a hoe in my hand. When you pick up a tool, you don't usually just fall in love with it. Look at Earl in the pictures below…do you see the love he has for tilling the soil? He imbued that love into the meaning I hold for the hoe.
Thanks to Earl, I want to reclaim this sense of love and respect and meaning with regard to the hoe. I believe that for man and woman alike, we can regain our dignity and bury the erosion of spirit that comes along with linguistic degradations of the word hoe. I see that dignity of the hoe is not merely found in the amazing breadth of functionality that it provides as a tool, nor is it solely contained in an ancient history of noble purpose, but in our common sense of being agents of fertility and creation, of being producers of food, of tilling the earth, of respecting the sacred, of becoming and serving as common implements designed for loving the earth and all of its inhabitants who happen to rely on a very thin layer of dirt called topsoil that feeds and sustains all life on the planet.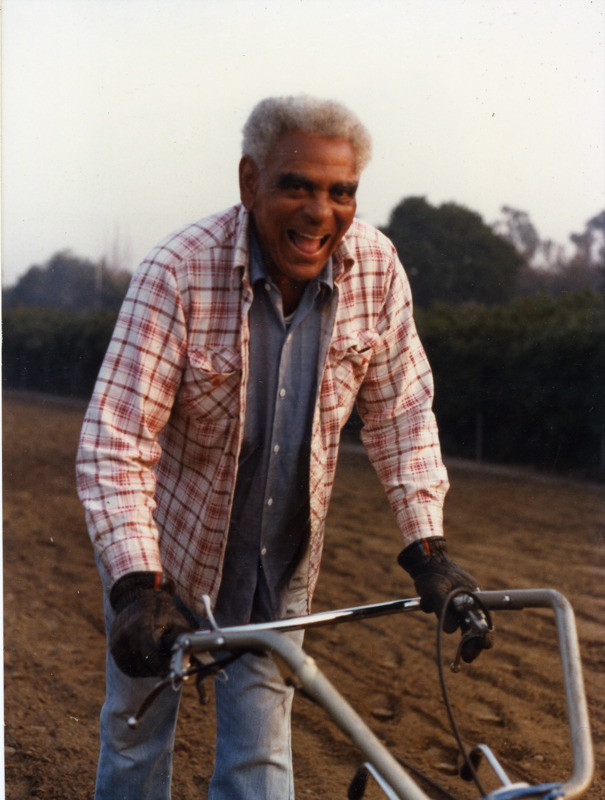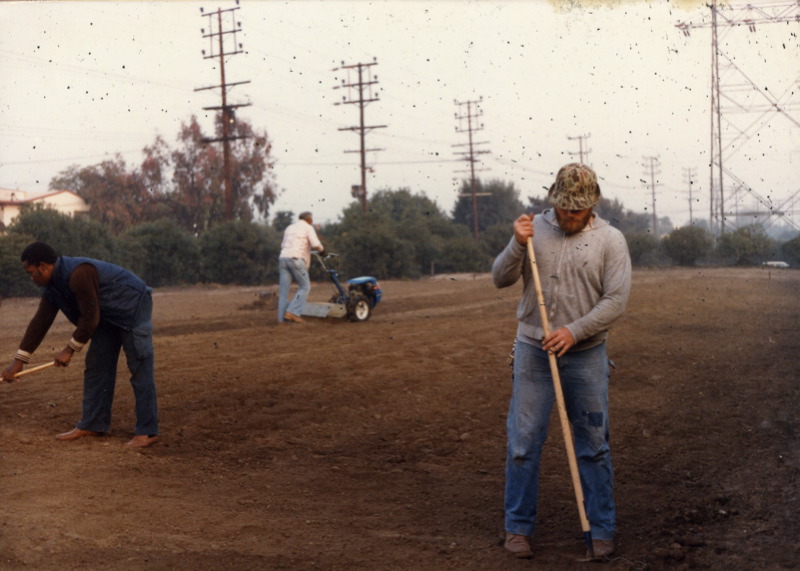 Working with Earl Ambeau was a joy. He taught me how to "hoe a row," plant seeds, and what a butter-bean is. He had lights rigged up in his back yard so he could garden at night. He packed a throw-away pistol and told me how he had been a share-cropper, pulled barges, been a pimp, and his love for beans.